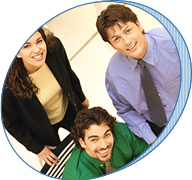 GlobalServers is a subsidiary of MySite, Inc., a 7 year-old company that's the largest Linux web hosting company in the world. We've been around since the dawn of web serving. So, yeah, we actually DO know what we're doing.

To shoot straight, we're experts in virtual dedicated server solutions. Our customers are small and medium sized businesses that would rather meet payroll, than pay thousands of dollars for dedicated servers, and service contracts, and…you get the picture.

The good news for you, is we can help you stay within your IT budget AND get the functionality of an expensive, high-end dedicated solution! Here's what we offer:



Standard Features:

RedHat Linux
Apache Web Server
Personal CGI-BIN Access
CGI Library
PHP 4
MySQL
PostgreSQL
Python, Tcl
Perl 5
SSI - Server Side Includes
Real Audio/Video Support
Flash/Shockwave Support
Webmin Control Panel
MS FrontPage Support
Unlimited Domain Pointers


E-mail Features

POP Email
Web-Based E-mail
Unlimited Aliases
Unlimited E-mail Forwarding
Catch-All/Star Address
Sendmail SMTP Server

Support

Toll Free Phone Support
24/7 E-mail Support
30 Day Money Back Guarantee
99.9% Uptime Guarantee

Site Statistics

AWStats Web Statistics
Webalizer Web Statistics
Access to Raw Log Files

Web Management

Crontab Support
Custom MIME types
Custom Error Pages
.htaccess Override
Password Protected Directories
phpMyAdmin for MySQL
GUI Database Manager
FrontPage Manager
Web-Based File Manager

Advanced Features

Apache mod_php4
Dynamic Module Support
Ability to Restart Server
Personal ACLs
Zend PHP Optimizer

Security

Linux Personal Firewall (IPtables 2.1.4)
DDOS Protection
State of the Art Data Center
24/7 Network Monitoring
Diesel Backup Generator
RAID 5 Redundant Storage with Hot Spare

Which GlobalServers package works best for you? Give us a call 9AM-9PM EST M-F at 1-866-HOSTED1. That's 1-866-467-8331.